While working on the forthcoming Guided Tour of St. Frideswide's – treating not only the cloister and nuns but the extensive agricultural and system of varied properties that economically supported them – I needed to say something about the priory's horses. Most would be of the workaday sort, but the priory's steward, Master Naylor, needed a good riding horse for all the travel his job entailed. I thought I knew what sort of horse that would be, but did not mind the chance to raid my shelves to find confirmation in the lovely book, The Medieval Horse and Its Equipment. Edited by John Clark, it is a publication of the Museum of London, with scholarly articles based on information from archaeological excavations and generously full of illustrations. It had a handy list of the different sorts of horses available, not delineated by breed but rather by what type of work they would do. The one I wanted for Master Naylor was an ambler, a horse with a gait that gives a particularly comfortable ride by both legs on one side moving together, then both legs on the other side, creating a smooth rocking motion, unlike the more choppy ride made by the diagonal leg movement of other horses.
This smooth gait is especially welcomed if hours are to be spent in the saddle. Most famously, the Wife of Bath in The Canterbury Tales is noted as sitting "upon an amblere esily", and accordingly on page 7 of The Medieval Horse is the well-known illustration of her from the 15th century Ellesmere manuscript where very clearly her horse is shown striding forward with both right legs at once:
For good measure, the same page has another illustration, this one from the 14th century (Queen Mary's Psalter), showing a huntsman on an ambling horse, both its left legs moving forward: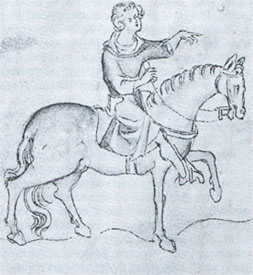 What struck me immediately was the complete match between the ambling walk shown there and that of the modern Tennessee Walking Horse.
Today if you should google for "ambling horse" a variety of sites come up about gaited horses. There are a large number of modern breeds noted for specialized gaits, but not all of these gaits are "ambling" as understood medievally, and many are deliberately showy rather than simply practical, as a medieval ambler was intended to be. But I was briefly acquainted with a Tennessee Walking Horse once, with even the pleasure of riding him, and that breed's gait is definitely the same as the Ellesmere's ambler – an alternating sides stride that sets up a fast, smooth pace designed to cover miles with ease for both horse and rider. Moreover, to my great amusement, the description of the Tennessee Walking Horse referenced a straight face and small ears, with a photo of a modern horse whose head exactly matched the Ellesmere ambler's.
The breed is supposed to have been developed around 1800 from several breeds – different ones are named in different sources, so apparently there's some uncertainty regarding exactly which it is supposed to be developed from – for the use of southern plantation owners needing to ride their acres. That's likely true, but on the visual evidence it can be guessed that some part of the line goes back one way or another a good way farther.
For good measure of delight, if you search out the right Youtube videos, you can watch the medieval ambling of Tennessee Walking Horses to gain a clearer idea of what a medieval rider could experience. When trying to recreate a long-gone world, every such scrap of experience is to be treasured. And isn't it fun what sideways paths research can lead one? All I wanted was to verify what sort of horse Master Naylor would be riding and ended up watching videos of modern horses and riders.
And people wonder why it can take so long to write a book. It's the research – it leads the innocent writer astray!
- Margaret