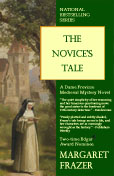 In men as men of course she took no interest; no heed at all if possible. But today an important man was visiting. Word had run along with the order for the honey cakes that it was Thomas Chaucer who was come to Frideswide's today, and even Thomasine in her determined unworldliness knew of Thomas Chaucer. Like the weather, he was a common topic of conversation in Oxfordshire, both because of who he was and how he had come to it. His father had been a poet and a customs officer, his mother the daughter of a very minor knight, but Thomas Chaucer, so the rumors insisted, was one of the richest and most powerful commoners in England. So powerful he could resign of his own will from the King's Council though he had been asked to stay; rich enough, it was said, that his purse-proud, wool-merchanting cousin, the Cardinal Beaufort, Bishop of Winchester, was pleased to ask his advice.
So it was vaguely unsettling to see him sitting at ease in Domina Edith's familiar parlor, looking hardly different from the way Thomasine remembered her father: A middle-aged gentleman with well-grayed hair and pleasant face, tanned with sun, moderately lined around the eyes and across the forehead; dressed in a green wool houpelande to his knees, split front and back for ease of riding, with lamb's wool budge at its cuffs and collar, his hood with its trailing liripipe laid to one side out of respect for Domina Edith and the warmth of the day. He wore a large ring on either hand but no gold chains or other jewels, and his high riding boots were only boots so far as Thomasine could tell, knowing nothing of cordovan leather or how much effort it might have taken to fit them so skillfully to the curve of his leg…
Here is an example of how – in my early books – I was still working toward a better grasp of the vocabulary of the time.  As I accurately knew, "cordovan" refers to a high-quality, expensive leather first made in Spain by the Moors of Cordoba and used for particularly fine leather goods.
So far, so good, except at the time I wrote The Novice's Tale, I had not yet developed a sufficiently questioning "ear", and so accepted "cordovan" at face value, when I might instead had the fun of tracking down its correct history.
It seems that this fine Spanish leather – made from tanned and dressed goat skins or, later, often of split horsehides, and used for a variety of items but particularly for shoes, "especially by the higher classes during the Middle Ages," as the Oxford English Dictionary says – would not have been called "cordovan" at all in medieval England, but "cordwain".  (Hence, the reason shoemakers of the time, and later, were called "cordwainers".)  The word "cordovan" only came into use in England in the 1500s.
Still, looking back, I suspect that even had I learned that cordwain was correct, I might very possibly have stayed with cordovan.  Fond though I am of using words correct to the period, I do not want to unnecessarily confuse readers simply for the sake of showing off my attempted erudition.  The odds are that the phrase "cordovan leather" sufficiently conveys a sense of richness without a reader having to pause in thought over it.  "Cordwain leather", on the other hand, would more likely give pause, jarring a reader out of the flow of the story.  If the leather itself had been a major point in the plot, the scrupulously correct word and the accompanying necessary explanation of what it meant would be justified, but in this case I was attempting to convey an impression of wealth, not begin a discussion of international trade and the leather industry.  So, very probably, "cordovan" it would have stayed, even had I known better.
But now that I do know better, there's no telling what use I may make of cordwain and cordwainers in the future!
- Margaret