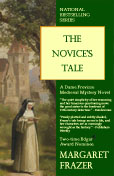 The next day was as fair as the days before had been, mild with September warmth and quiet in its familiar pattern of prayers at dawn, then breakfast and Mass, and afterward the varied, repetitious business that was the form and shelter of everyday security for Thomasine.
But she had stayed in the church after the long midnight prayers of Matins and Lauds, kneeling alone at St. Frideswide's altar in the small fall of lamplight, meaning only to give thanks for yesterday's gift of courage against Lady Ermentrude and then return to bed, but she had lost herself in the pleasure of repetition, murmuring Aves and Paters and simple expressions of praise over and over until all knowledge of Self melted away, and suddenly there was the sharp ring of the bell, startling her, because it meant the whole night had fled. She went as quickly as stiff knees and sticky mind allowed to the church's cloister door, there to join the nuns in procession to their places in the choir to greet the sunrise with the prayers of Prime.
Now, as the warm day wore away, she was finding her temper uneven and her frequent yawns a distracting nuisance. There seemed to be constant errands to be run, few chances of just sitting at a table in the kitchen pretending to peel apples, and every time she went out into the cloister the sound of her great-aunt's people lofted over the wall. Heavy male laughter and the higher pitch of chattering women's voices had no place in St. Frideswide's cloister. They bruised the quiet and made Thomasine wish for a way to bundle them into silence.
As she hurried along the cloister walk to fetch ink for Dame Perpetua, the little bell by the door to the courtyard jangled at her, saying someone wanted in. Thomasine halted, irked, and looked around with impatient anger for a servant to signal to the door – then caught herself and offered a swift prayer of penitence. Anger was one of the seven Deadly Sins, and its appearance marked a severe lack of the holiness she was so desperate to attain.
The bell rang again, there was no servant in sight, and misery replaced her anger. Why were patience and courage always called for when supply of them was smallest? She went to the door and opened the shutter that closed the small window at eye level. Peering through its bars, she saw no one, and the ends of her temper unraveled a little further. Then the curly top of a head bounced barely into view, and a child's voice cried, "Oh, please! Open, please open! I need help!" Read more »